News
Company News
Rubber half soles protect Christian Louboutin red sole shoes
Christian Louboutin red sole shoes is famous to unique red soles around the world,
For the beauty of the ladies everyone want to have a pair of this red soles shoes, because it is a luxury, the price is more expensive, so not every lady can easily get it, the more precious shoes, we should be more care and protection, many people choose to go shoe repair shop and put a red soles on it , because of the Christian Louboutin red soles's red is unique, different red will affect the appearance of shoes, for this problem, ROBIN INDUSTRY developed a new red rubber shoe half soles, The color is very close to Christian Louboutin red sole color, so this way we can protecting the red soles and don't affect the appearance of shoes.
Maybe you are interested in our rubber shoe half soles products now, we will reply your any inquiry in 24 hours or less.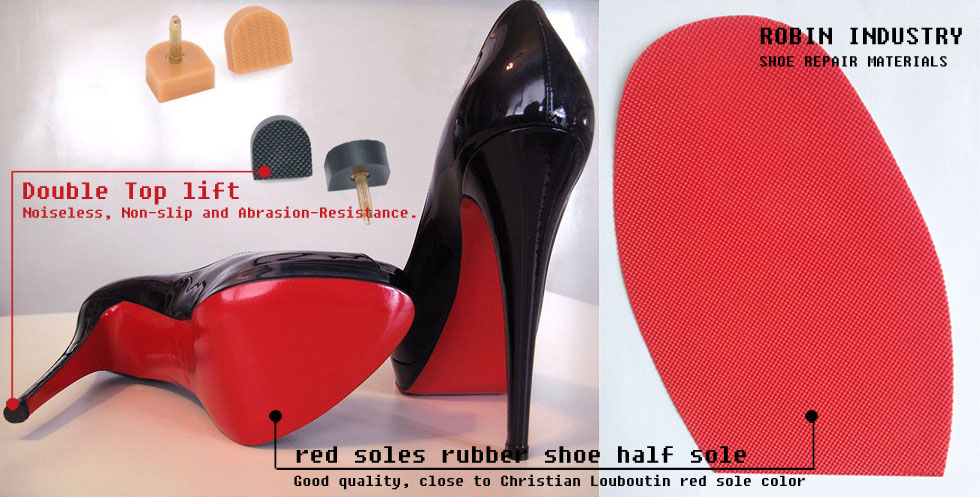 ROBIN INDUSTRY CO.,LIMITED
Tel: +86-571-85241732 | Mobile: +86-15372408270
E-mail: lisa@robinindustry.com | robinindustry@hotmail.com
Add our WhatsApp or WeChat : +86-18268819406 | Add our Skype: robinindustry
Website: www.robinindustry.com
Office Add: #1201, building 2, Hailian Cloud Clients, Beisha Western Road, Yuhang District, Hangzhou, Zhejiang, China .
Contact Us
Mob: +86-15372408270
Tel: +86-571-85241732
E-mail: lisa@robinindustry.com
Add our WhatsApp or WeChat : +86-18268819406
Add our Skype: robinindustry
Office Add: #1201, building 2, Hailian Cloud Clients, Beisha Western Road, Yuhang District, Hangzhou, Zhejiang, China