News
Company News
2011 Buy good shoes, repair, and save
Buy good shoes, repair, and save your dollars to buy more good quality shoes!
Increasingly customers are able to buy shoes at very cheap prices largely due to changes in tariffs and the reality of production costs in Australia. A range of shoes in style and quality can be bought at the factory outlet retailers.?
So what sort of shoe buyer are you? Are you the one who buys any shoes wears them and throw then away when it realized they dont really fit, or when it realized they are not really comfortable or when they are in need of repair and you make the decision that they are not worth it to repair!
Or, Are you the customer who buys good quality shoes for fit, comfort and repair ability?
Things to think about when you buy your shoes if you want quality shoes along with fit, comfort and repair ability include the following:
• The uppers - are they leather?
• The linings - are they lined in the front and the back? Is the lining at the front cloth? Is the whole shoe lined with man-made materials?
• The innersole - the part where your foot goes - is it leather, or shoe making cardboard? Is there are leather sock or vinyl sock right underneath your foot? Does the sock continue under the ball of your foot or does it stop under the instep area or under your heel?
• The sole - the part that hits the road. Is it leather? Is it rubber? Is it very thin leather on top of a rubber unit? Is it synthetic?
• The heel? Is it plastic or rubber? Is it slippery to walk on? Is it noisy as you walk along? Does the heel wear out very quickly? Does the heel feel like it is going to stay attached? Is the heel balanced with the rest of the shoe?
• The fit of the shoe. Is the shoe wide enough for your foot or are you squashing your foot in? Is the shoe long enough or are you squashing your toenails down? Is the shoe too long in the front? Is the fit on one foot very good and terrible on the other?
Buy good shoes, repair, and save is the approach taken by your Shoe Repairer. Every day your Shoe Repairer assesses, gives advice and repairs shoes to give you the customer added value for your shoes.
With your new shoes talk to your Shoe Repairer about:
• Protecting your shoes with a protective sole on the sole of your shoe.
• Making you shoes safer and quieter by replacing the plastic heels with rubber heels.
• Using protective leather innersoles inserted inside the shoe.
• The quality and fit of your shoe before you begin to wear them.
• The care of your investment.
With your favorites which are just so comfortable talk to your Shoe Repairer about:
• New heels
• New half soles
• Replacing the full soles and heels in leather and rubber
• Replacing the back linings
• Stitching and on-going care!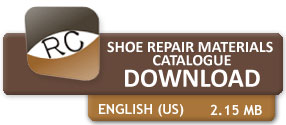 Contact Us
Mob: +86-15372408270
Tel: +86-571-85241732
E-mail: lisa@robinindustry.com
Add our WhatsApp or WeChat : +86-18268819406
Add our Skype: robinindustry
Office Add: #1201, building 2, Hailian Cloud Clients, Beisha Western Road, Yuhang District, Hangzhou, Zhejiang, China