Products
Shoe Sewing Machine
SP2150MX Auto Lubrication Cylinder-bed Upper & Lower Feed Zigzag Sewing Machine (big hook zig zag binding)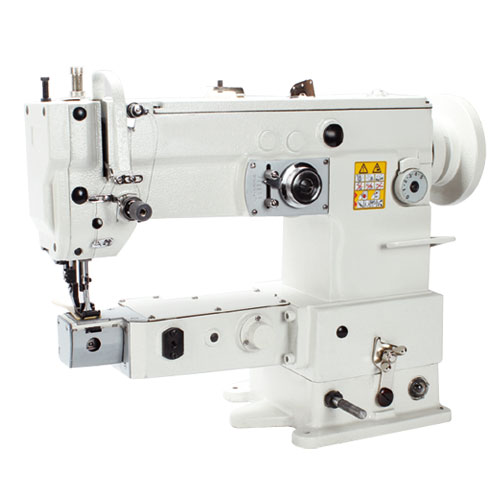 SP2150MX Auto Lubrication Cylinder-bed Upper & Lower Feed Zigzag Sewing Machine (big hook zig zag binding)
■1. Product Applications:
Suitable for sewing thick materials , various tubular products , especially sports and leather products, such as bags, shoes, hat, sofa, tents,golf gloves,diving suits, and also can do zig zag binding.
■2. FEATURES:
1、Adopt double presser foot with upper & lower feed that make the stitching neat and beautiful.
2、By adoption of large hook, shorten the bottom line replacement cycles, greatly improving the sewing efficiency.
3、Optional 2-step or 3-step Zigzag sewing machine can enhance the sewing firmness.
4、Auto lubrication, low noise and vibration, easy to operate
5、Cylinder Dia: 65mm, Cylinder Length:245mm
6、New designed feeding structure.
■3. Product Parameter:
Max.Sewing Speed: 1700S.P.M
Presser Height by hand / by pedal: 9mm/13mm
Needle: DPx17 #14 - #22
N.W/G.W: 45.5/51.5 KG
MEAS: 64 x 31x 62.7 CM
■4. Sminilar Products:

■5. Services:
Ⅰ, ROBIN INDUSTRY WHOLESALERS SERVICES
To meet the high demands of the international guests, ROBIN INDUSTRY improve more product line of shoe repair & footwear,and all products are reasonalbe in price, ROBIN INDUSTRY provide more diversified services, it had help customers to save more time, and full win the trust of customers.
ROBIN INDUSTRY provide professional Technique with attractive price, so we won the trust and praise of many wholesalers & dealer from all around the world.
Ⅱ, ROBIN INDUSTRY OEM SERVICES
We welcome your OEM order. We have OEM customer with products being sold in USA, UK, Canada, Poland, Mexico,Saudi Arabia, Australia, South Africa, Nigeria,Singapore, Kuwait, Sri Lanka,Oman,Cameroom and etc, . The OEM service we provide will suit all different type of needs the customer has.
Contact Us
Mob: +86-15372408270
Tel: +86-571-85241732
E-mail: lisa@robinindustry.com
Add our WhatsApp or WeChat : +86-18268819406
Add our Skype: robinindustry
Office Add: #1201, building 2, Hailian Cloud Clients, Beisha Western Road, Yuhang District, Hangzhou, Zhejiang, China